Kia ora and welcome to a selection of photos from Christchurch in May. Sunrises and sunsets certainly laid out the pretty. And by heck if there wasn't that feel of Roman (and Egyptian) ruins.

Again Chris Heaphy's Whare in Cathedral Square held my heart. One of my favourite art works in Christchurch without a doubt.

And the Burster Flipper is an enjoyable show.
Dad met Swedish writer Camilla Lackberg.
Demolition, as ever. The Frontrunner went down, goodbye to the silver mannequins who posed up a storm.
The Majestic Theatre inches ever lower.  An invisible audience sits and watches.

And meanwhile a butterfly in the Agropolis nearby.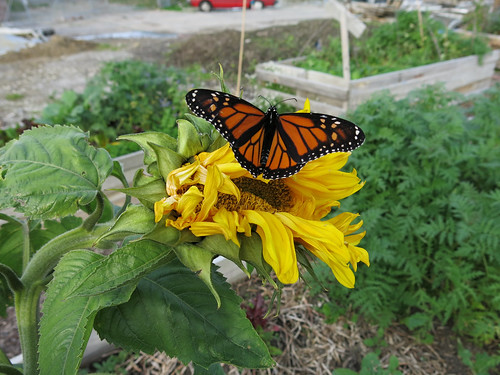 The mini on the wall, viewed through the CCC building demolition.

In your library return chute, judging your books …
The CSO plays for New Zealand Music Month at Central Library Peterborough.

Random delights – Battenburg, my favourite cake.

Banfields of Beckenham – very arty butchery.

Games for sale.
Or would  you prefer a Jenny Shipley mask?

The random sticker wisdom to be found about town.

Southwark Street – Bizarro world. I was walking to work on Friday 23 May and spotted the tip of a painted sky down Southwark Street. So glad of my curiosity – I discovered a bizarro world of reflection, repetition, wit and wonder. It is beside Warren and Mahoney. Am trying to track down any information on this rather fabulous and surprising thing. Bravo.

More May 2014 photos.